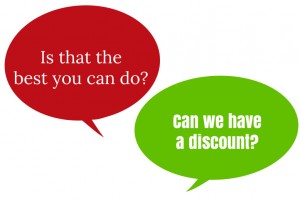 Need some help strengthening your haggling skills? Planning a trip to the flea market or hitting some garage/estate sales this weekend? Today's post can help!
Negotiate with the Owner
When it comes to getting a good deal it breaks down to negotiation tactics. In a store setting, a sales associate can only do so much of the negotiating before they have to go to the owner. So when you're talking about the money, find out who the owner is because you'll get the best deal from that person. The owner doesn't have to worry about paying a commission and if they're having any kind of money crunch, they'll want to turn inventory.
Read Body Language
See whether the seller is anxious to close the deal. This could be an indicator that the piece is not selling and they just want to get rid of it. There are plenty of sellers that are moving money around from sale to sale. Test the seller's response with your indecisiveness.
Bring Cash
Also, cash is often king, because a lot of places don't take credit cards, so you'll get a better deal if you're willing to pay cash. You can also seek out a discount for paying in cash.
Dress down
How you dress is also important when shopping for collectibles. That means dressing in inconspicuous clothing, leaving expensive jewelry and shoes at home and parking your car a block away. If you drive up in a Lexus in front of a garage sale I'm holding, I'll probably be hard-pressed to give you a good deal.
Bond with the Seller
Also, build a rapport before you start negotiating. Don't immediately rush in with, "How low can you go?" Start off by chatting about the weather. Simple conversations go a long way and when people have time invested in you, they feel more obligated to give you a better deal. If you're in the military, active or past, say it. I always give a military discount out of respect for their service. Mention anything about yourself that might create a bond with the seller. Then ask, "Can you do better on the deal?"
Find Flaws
If the piece has flaws, do not play full price. Negotiate the price down because of these flaws. You can't become a "garage sale millionaire" by paying full price for damaged goods!
Have fun! The most common product you can talk down is appliances according to the Consumerist.com. "Readers had the highest success rate with appliance prices, which some retail stores will over-price knowing that bargain-hunters will try to haggle. 94% of those who asked for some sort of discount on their appliance purchases say they were successful, with the average haggler saving around $200."
Thanks for Reading!
-Garage Sale Millionaire